Back to the boots und and experience the magic of autumn!
Enjoy time in nature, experience the beautiful Gasteiner mountains in autumn and get spoilt in our nature spa. Master new challenges on the mountain, enjoy the clear air and learn more about the Gasteiner mountains from your hiking guide. Finish off your activity filled day with a foot reflexology massage or a mud pack and enjoy a delicious dinner at Luke's Wohnzimmer!
19.05. to 30.11.2023 | DURATION: 3, 4 or 7 NIGHTS / 4, 5 or 8 DAYS | FROM € 293,80 PER PERSON
Enjoy the golden hour of autumn in Gastein. Everyday a new hike! Explore the Gasteiner mountains and enjoy the colours of autumn. Finish off your time here with a visit in our relaxing nature spa.
Travel Dates

from 19.05. to 30.11.2023

Included

Daily buffet breakfast in Lukes's Wohnzimmer

1x p.p Beinwunder- Leichtfüssig package (1x foot reflexology massage, 1x mineral mud pack in the hanging bed, 1x kneipp- parcours)

5x p.p per week guided hike (hikes only from Monday to Friday)

Prices

from € 293,80 p. p. for 3 nights (available for every room and apartment category)
Prices are per person. There's an additional city tax of € 2,40 p.p per night.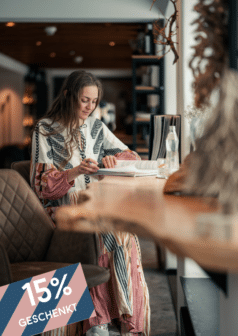 Vacation feeling despite everyday work - with us you can have it! Take a seat in your new favorite office in the middle of the Gastein mountains and let yourself be pampered after work. Since we know that happiness is better when it is shared, we would suggest that you simply arrive as a couple!