BIKING IN THE GASTEINER VALLEY
Discover the Gasteiner valley and enjoy the fresh air on a bike. Fantastic tours, beautiful alpine huts and highlights along the routes, such as waterfalls and lakes. Perfect for people who enjoy a slow tour and for families. The Sendlhofer's is ideally located for your bike holiday in the Gasteiner valley.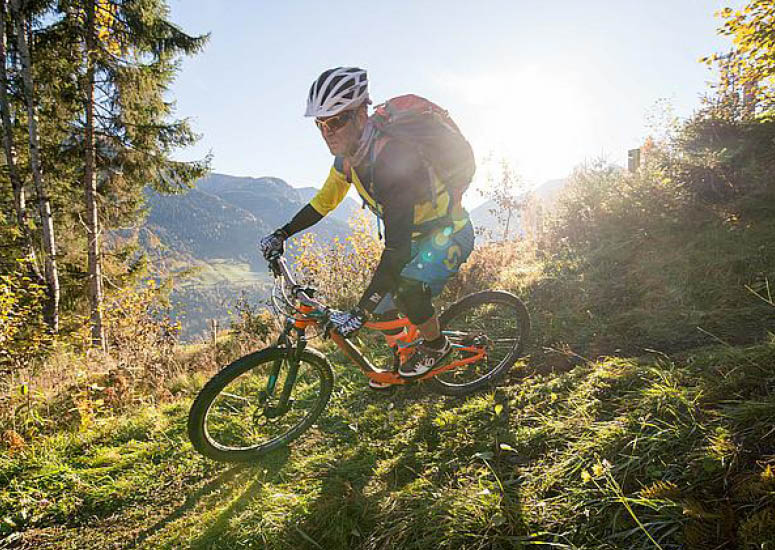 in the Gasteiner Mountains
In case you are an adrenaline junky and you enjoy a challenge, you will find numerous mountain bike trails in Gastein, which will make your heart beat faster. Here you will find challenging as well as rewarding tours in the Hohe Tauern. Ambitious mountain bikers will find themselves on challenging tours in the region. Valley tours promise balance and joyful cycling with great views.
In our ski and cycle workshop you can plan your next tour, chat to other guests or work on your bike. There's a vending machine offering parts and tools for small repairs. In case you don't have a bike on you, we offer mountain, trekking bikes and kids bikes for rent. For a small fee (per battery charge) you may also rent e- bikes. These bikes are mountain bikes as well as e- fullies. 

Guided bike tours take place 3x per week in Gastein.  Beginners as well as pros can find the right tour and discover Hohe Tauern in a small group of up to 8 people. Are you ready to test your limits?